The air has turned decidedly cooler this last week. The windows that remained open all summer are now closed.
We've pulled out the fuzzy sheets and extra blankets for the beds.
Right now I'm snuggled on the sofa with a sweater and down blanket. Paul's got on a sweatshirt and is still wearing his ball cap to keep his noggin warm (kind of silly since he's wearing shorts).
It's chilly in the house, but there's no way we're going to crank up the furnace on the 20th of September to take the chill off -?even though we've all thought about it.
Winter is on its way. After a summer of procrastinating, it's time for us to get our act together.?Procrastinating really isn't the right word I suppose, because we have been busy. The truth is we don't like to sweat, which really puts manual labor low on our list of things to do. Building a chicken coop is one thing. Hauling, cutting and stacking many cords of wood is another.
There's no beating the calendar. It's time for us to get serious about getting ready for winter. With the cooler weather upon us, "serious" jump-started last weekend. We started hauling trees from the wood lot down to the house, cutting and stacking them to feed to the monster wood boiler that has been silent all summer.
Leave it to Paul to figure out how to get the job done with the least amount of physical labor necessary.
This stack of wood that is taller than Paul…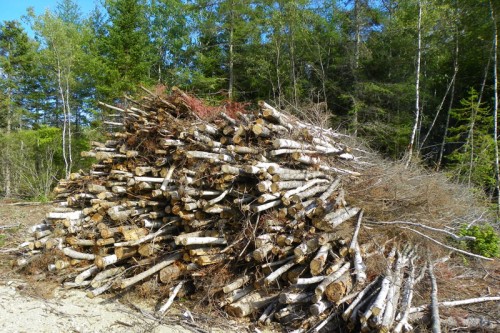 needs to go here.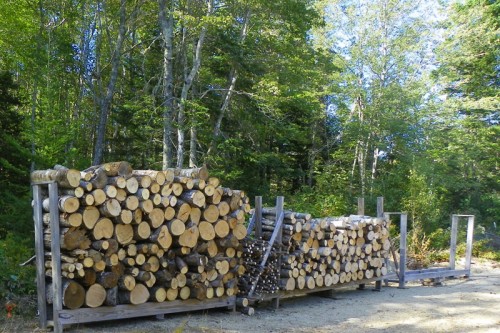 Paul finagled a way to do this with minimal manual labor – no surprise there. We chain one end of the log to the tractor bucket and then use the tractor to raise the tree off the ground so the branches can be trimmed.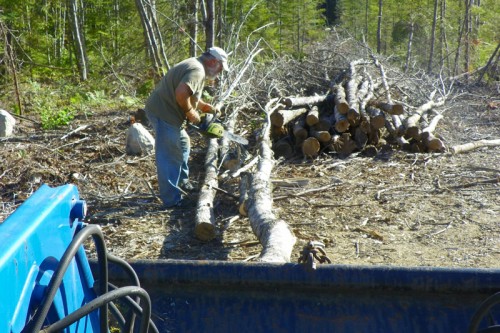 Once the tree is denuded of branches, we carry it with the tractor to the flatbed trailer. I'm driving here and Paul directs and works the chains.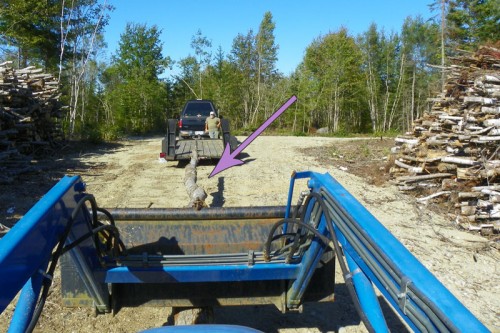 Paul drives the trailer up to the house and maneuvers the logs off one by one. He then cuts them into "Shecan". If you're not familiar with "Shecan" it's wood cut into lengths that "she can manage when on her own and loading the wood boiler this winter."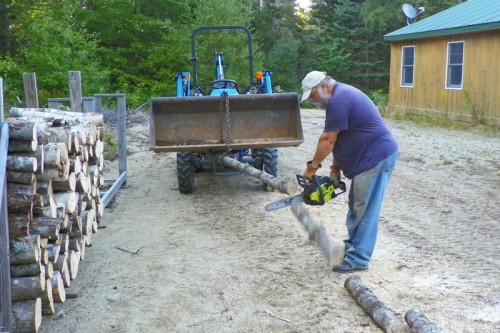 We've got a lot of cutting and stacking to do to make that stack disappear! Even Hannah has been pitching in with the work.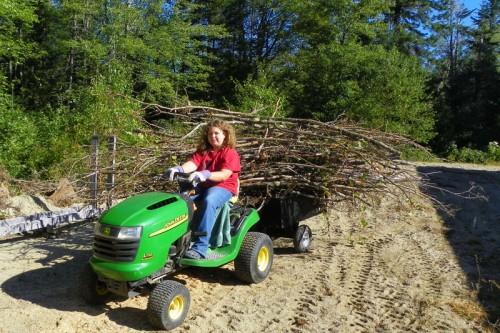 Other wood posts:
2 February 2011: A Day Cutting Wood
26 July 2010: Like Father Like Daughter
1 March 2010: Outdoor Wood Boiler