On Hannah.
She was home from school today with a terrible headache – one that started last night that she hadn't been able to shake by this morning. When I returned home from work she greeted me from the dark cave of her room with my camera. She said that she'd heard an odd chirping from outside that she thought was maybe a duck in distress. Upon inspection, she found this blue jay wandering about my garden. She figured that I would want a picture, so she found my camera and, "fumbled around to figure out how to get the camera to work, and finally, on accident, I got the picture."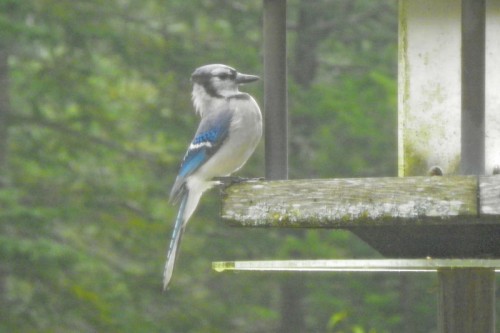 The picture was a little underexposed, but the bird's pose was great. A little Photoshop work helped the picture along. Pretty good for one snap. If it had been me I'd have taken 45 shots to get this one!
This evening when she was feeling a little better, Hannah experimented with baking a braided french bread loaf.
And suggested that I get the camera to take a few pictures for my blog.
Too funny. I told her that she should put the pictures on her blog, but here they are. Hannah used our bread machine to make the dough. It turned out a little on the soft, wet side.
Hannah was a little bummed that the bread didn't turn out as good as the picture in her cookbook, but it was tasty!