I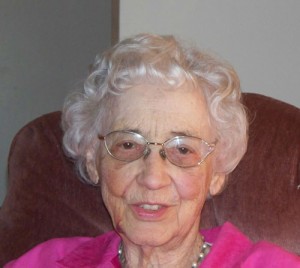 lost my grandmother this week. Ruth (nee Strobel) Bender Nerviani died peacefully in her sleep at age 96 with my mother by her side. Her passing leaves a void in my heart.
All of my life I called my grandmother "Mother." Growing up I heard my mom call her "Mother" and I assumed that was her name and followed Mom's example. In our family the moniker "Mother" helped to differentiate between grandma Jordan and grandma Bender.
My first memories of Mother are hazy vignettes.
Long car trips to visit her often beginning in the wee hours of the night packed tight in a Pontiac Tempest with my mom at the wheel.
I remember standing in Mother's kitchen making cake. She always scraped the bowl clean of batter, leaving nothing to taste. Rather, she held out the pan full of chocolate cake batter and said I could stick my finger in for a taste before she put it in the oven. Uncertainly, I dipped the tip of my little finger in and sucked off the little dollop of chocolate. Watching, my mom stepped up and said, "No, that's not how you do it!" She proceeded to trail her finger from one end of the cake pan to the other gathering a huge helping of batter with a mischievous smile.
I remember helping to set the table with her Hadley ware pottery dishes adorned with whimsical country images. I always switched the plates around so I'd be able to dine with the horse or cow.
I remember my favorite dessert at Mother's house – fresh sliced peaches paired with chocolate chip cookies.
I remember tagging along with her to work before I was school age. Mother was the librarian at the Indian Hills Elementary School. I'd sit in on story time, browse the all of the books, help checkout books, and play librarian with the stamps, papers, and pens at the library counter.
I remember being brave, exploring Mother's basement by myself where she had a huge chalkboard mounted on the wall. In the musty coolness I'd play teacher, writing and coloring on the chalkboard until a sound from some unknown source sent me scurrying back upstairs.
As I grew older I shared her love of reading and we traded books. A love that I have passed on to my daughter.
She was with me when I celebrated my 18th birthday in Florida where the menu consisted of lobster tails and strawberry daiquiris.
I was proud to share her college Alma mater, Wittenburg University, from which my grandfather also graduated.
Mother helped my grandfather, Pastor John Bender, start and build the Ascension Lutheran Church in Montgomery, Ohio. She continued to attend Church even when she could no longer walk in under her own steam.
As I grew older, I had fewer opportunities to visit with Mother. She remarried some years after my grandfather's passing and had a busy life. I had a career, and before long a family of my own. Still, every other year or so we'd have the opportunity to visit. In between we would talk on the phone now and again and I would email or send pictures of my family and our adventures. Mother was not very good with long distance phone calls. I think it may have been a result of the days when long distance calls were quite expensive. Even more recently she kept phone calls short and sweet as if she was worried about the cost.
My home is filled with so many tangible things that remind me of her. The painting of a ship at sea that she did in the 1950's. A copper owl that was hers. Glass paper weights that sat in her room. Her jewelry chest. The wooden salt and pepper shaker that used to grace her table. Table linens. The wooden and metal bird wall hanging she helped me choose from a gallery during one of my trips to her home. Every day I see these things that tie me to her.
Mother's passing brings forth a new period in my life. As my last living grandparent she was my connection to a family history that now feels a bit more distant.
I am blessed to have had Mother in my life for as long as I did. She was well and truly loved and will be forever missed.