Granny Gadget struck again not long ago. The UPS man must think that I am a QVC-aholic as often as he delivers to us. Little does he know that it's Granny Gadget in Pennsylvania (A.K.A. Mom) who is the QVC fan.
Our latest gadget from QVC is an Ebelskiver cooker. Never heard of an Ebelskivers before? We hadn't either, but Hannah and I are fast becoming fans. Ebelskivers are little round Danish pancakes that often have a filling in the middle. We've experimented with fillings of jam, blueberries, chocolate chips, Nutella, and bananas.
Here's Hannah cooking her Ebelskivers for us this morning.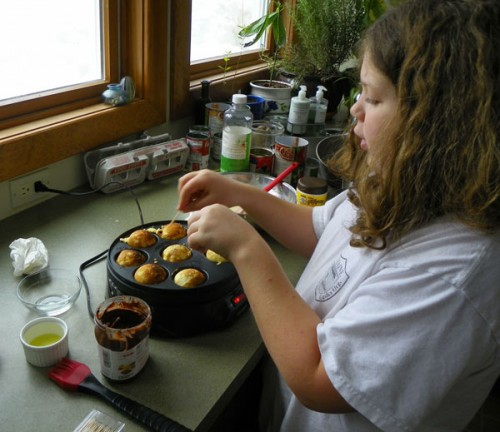 Our new favorite filling? Nutell AND banana. Amazing! Hannah's Perfectly Perfect Ebelskivers.