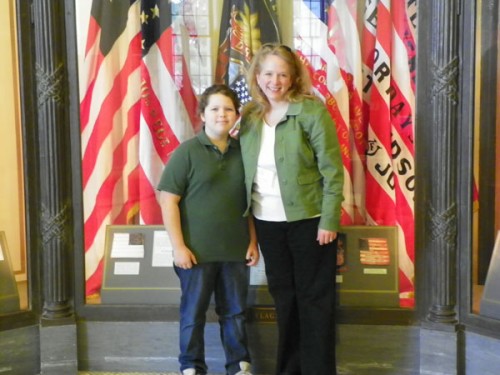 Since August I've been working part-time for a group called Maine Families. I am a home visitor and parent educator working with first-time parents. It's a wonderfully rewarding job and much needed here in rural Maine. This year to help balance the state budget, Maine's Governor has proposed the elimination of the Maine Families Home Visiting program; not a cut, but a total elimination of this service.
There has been a flurry of activity at the state capitol in Augusta with budget hearings and committee meetings. Today was Maine Families Day in the State House Hall of Flags. Maine Families staff from across the state gathered in the Hall of Flags to meet with our respective representatives and senators to educate them about the Maine Families program.
I saw this as a great opportunity for Hannah to see how our government works. Her teachers allowed her the day off school so she could tag along with me. She patiently waited while I did my thing. She found a corner in the Hall of Flags and wrote an outline for her Social Studies report on the day (and played a little Nintendo DS, too). Ultimately we toured the State House. Hannah got to meet her State Representative, Dianne Tilton. While she didn't meet her State Senator, Kevin Raye, she did meet one of his staffers. She had the chance to explore both the house and senate chambers – and to sit in the House President's seat and hold his gavel. It was wonderful to see how welcoming the politicians and staffers were to an 11 year-old taking an interest in her state history and politics. All in all it was a fun mom-daughter day out.
Click on the thumbnails below for larger images.