We heat our home with an outdoor wood boiler. This is a very economical way for us to heat our home given that we live on 49 wooded acres. The only catch is that at some point you have to cut the wood.
We believe that the area where our house sits used to be pasture. When we were clearing trees to build the house, we stumbled (literally) over bits of old fencing – mostly rusted, twisted wire. Today our home is surrounded by good sized trees. There are a lot of hackmatack trees that have died due to a blight that went through the area. They stand along the drive and look like sentinels, towering over the pretty pines, spruce and maples.
We have been systematically weeding out these dead hack trees and cutting them up for the boiler. It's good fuel, dresses up the woods a bit, and lets the nicer, healthier trees flourish.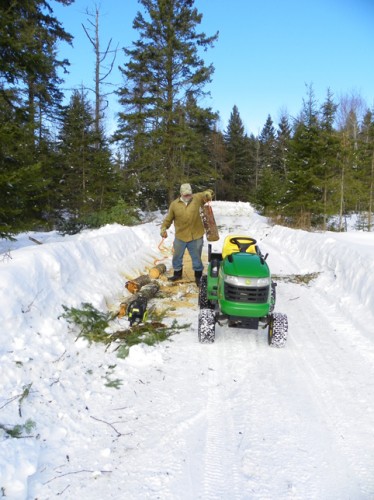 We set aside a couple of hours twice a week or so to cut wood. Today, a nice day in between storms, was a wood cutting day. It was a fantastic day to be outdoors. Blue skies and not a cloud in sight. Almost balmy temperatures for Maine in February – the thermometer read 40. We were outside with just a fleece for a jacket.
Today's job was to extract a tree that had blown over in a recent storm. It was a big spruce lodged between a couple of other trees. After cutting the limbs off the tree, we hooked a chain around it, hooked the other end to the pickup truck and yanked it out of the woods. When I wasn't looking, Paul took down a huge hack tree that kind of went the wrong way, hung up in trees. I slugged through the snow with the chain and we pulled that one free and then pulled it out of the woods, too.
Our little John Deere lawn tractor (with the mower deck removed) tows a little trailer that we use to haul the cut wood up behind the house.
We've had so much snow that we've had to cut a tunnel of sorts through the snow to the back of the house where the wood boiler lives. Hannah and Paul took turns today driving the tractor loaded with wood. I think next year we might invest in chains for the tractor!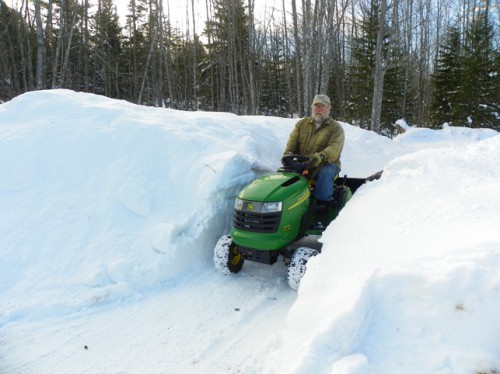 We've created a looped path through the snow that runs behind the garage lean-to, past the wood boiler, and then back under the lean-to around to the front.
Cutting wood is a family event. We all gather and stack, even Hannah. Kindling is just as important as the big stuff, so there's always something she can do.
Did I mention there's only 43 day still spring?