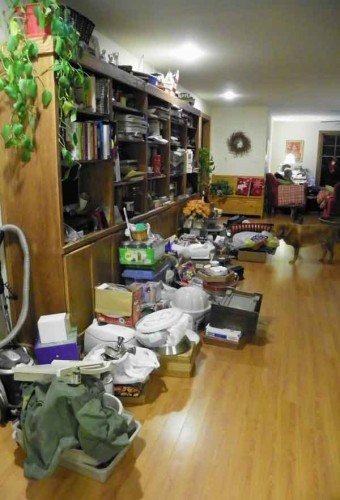 When we were designing our house I planned in this great laundry room. It has a washer, dryer,  double utility sink, cabinets. clothes drying racks, shelving etc. The problem is that it never worked the way that I thought it would. It became the dumping ground for things we didn't know what to do with. Before long you could barely walk through to the other end.
For a while I've been thinking about overhauling the room. I didn't jump on the project because it meant pulling down shelving and dismantling cabinetry. As Paul would say, I got a bee in my bonnet about this over the weekend.
On Friday when I asked Paul what his plans were for the next day he said, "I don't know. What are my plans? You tell me."
Don't you love it? That comment was reminiscent of our honeymoon period when his refrain was "Anything you want Sweetie." After a year or so that turned into, "Put it on the list Sweetie." Some time after that he called a moratorium on house related projects all together. Period. So, his reply of "What are my plans?" opened the door wide.
I geared up for the project on Friday evening by pulling everything out of the laundry room so we could begin dismantling and rearranging cabinetry and shelving bright and early on Saturday. As I looked at everything that had been hiding away (picture above – loaded dining room table not pictured), two things became clear to me. 1) There was a lot of stuff that we hadn't used since we moved into the house six years ago.  2) 95% of what came out of the laundry room was given to us by my mom, AKA "Granny Gadget." Mom has a fixation with QVC and gadgets and I am often the beneficiary of her shopping sprees. Hence the need for a big laundry room with lots of storage space.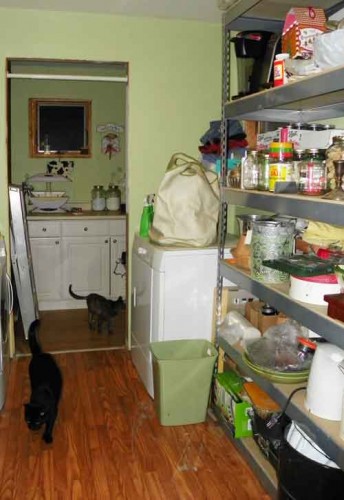 So on Saturday we tackled the room and by noon had the shelving and cabinetry reinstalled. Hannah and I then spent the entire afternoon moving things back into the laundry room, making sure that everything had a place. This little project has me inspired. It may just be time to finish the window and door trim in the laundry room. What next?