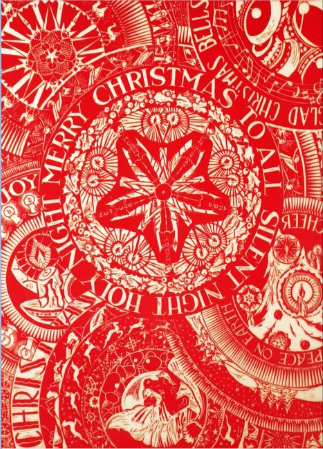 This Christmas artwork was created by my great, great aunt, Elizabeth Stroble. Elizabeth taught art at a high school in Minneapolis, Minnesota. Each year she created an amazing linoleum block print poster and sent a copy to her nieces and nephews as her Christmas card. This 17 by 21.5″ poster was sent to my grandmother (who is now 95 years old), circa 1940. I now have four of these these treasured Christmas prints and they are displayed in my home every Christmas.
It's wonderful that this gift made with love has transcended the generations of the Stroble, Bender, Jordan, and Bennett families. I don't know if the other recipients of these Christmas greetings saved the prints and worked them into the fabric of their holiday traditions. For me, it warms my heart to have these prints and to know that I have this connection to my ancestors.
It's a rare gift that lives on to bring joy year after year.
Wishing you and your family the gift of peace, health and happiness this Christmas.
Susan