My husband owns a business called Downeast Thunder Power Sports. Although Paul has a colorful background (motorcycle mechanic, builder of motorcycle racing engines, U.S. Marine, marine engineer, port engineer, etc.) his passion is motorcycles and engines. He readily admits that he likes "turning wrenches."
Two weeks ago Paul said, "We live in the heart of Christmas wreath country. Everybody else is selling Christmas wreaths. We should sell a motorcycle Christmas wreath for Downeast Thunder." I thought about the idea and my crazy schedule and told him that it was a fun thought, but that I didn't think I could handle one more thing on my plate.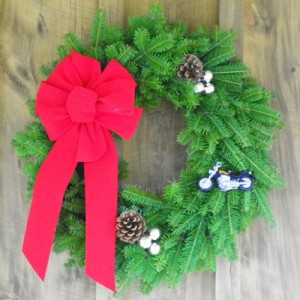 The next day he came back to me and said that he really wants to do the wreaths and that it would be "his thing."  Funny how "his thing" has turned into me chasing down the details – a wreath maker, wholesale motorcycle ornaments, ribbons, decorations, etc., all while he's cheering me on from the sidelines. How do I get myself into these things? Is it because I don't trust Paul to make a wreath bow? Or is it that I know he can be a bit of a procrastinator? Whatever it is, we've collaborated and he's introducing the first Downeast Thunder Biker Christmas Wreath over at Downeast Thunder Power Sports. Head on over and take a look!