My birthday present to myself earlier this year was a garlic basket kit. That first ply-split basket made from Danish cord didn't turn out quite like the instructions and pictures. I've since attempted two more garlic baskets and seem to have the technique figured out. This time around I knew enough to appreciate when something wasn't right along the way. I undid portions of these two baskets numerous times and redid them before calling the baskets finished.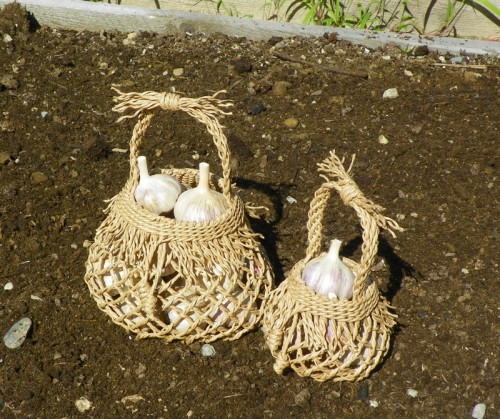 I don't care too much for the fringe on the handle – a bit fussy for me. With the next basket I'm going to attempt a design change. Now that I understand how they go together I'm feeling brave.
I've donated the larger of the two baskets pictured above to the Women's Health Resource Library's Purse Power Auction. If you think the basket is fun, you can place a bid on this basket and other great purses, totes, and handbags beginning in October. Click here for more details! Contact me if you would like to make a donation to the auction.