Well, nobody delivers here! You see, we live in the country. To put things into perspective from our house it is:
36.2 miles to the nearest stoplight
27 miles to the nearest McDonald's
68.7 miles to the nearest mall
64 miles to the nearest Domino's Pizza
And we love it! You might think we're totally in the boondocks (that's a few streets over), but we're not. Our little town of Milbridge has two pretty good restaurants (not including the lunch counter at the Gulf gas station), a great grocery, a building supply/hardware store, and a movie theater.
Occasionally, we do wish we could pick up the phone and have Domino's deliver a piping hot pizza right to the front door. Have any hot meal delivered for that matter!
No need to feel sad for us, though. We've become pretty good pizza makers in our own right. When I don't make the pizza dough in the bread machine I buy the ready made Portland Pie Co. beer dough (beer dough!) from the grocery. That's what we did last night. Bet you wish you were here!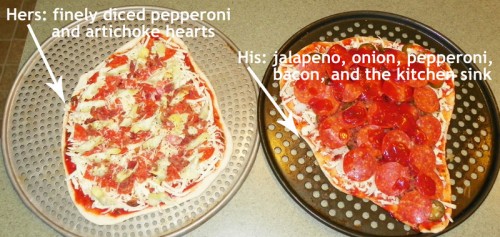 I actually have a few slices left over from my pizza. I have to label them, "Susan's – do not eat!" If I don't, when I go to the fridge to have them for lunch I'll find that they have disappeared. That's what happened last week. Doesn't take long to track down the culprit. Paul said he "rescued them!"