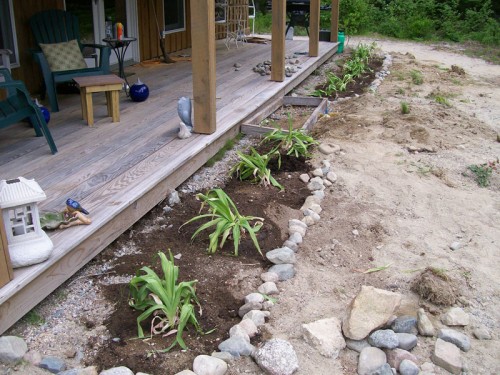 We went to my folks over spring break. When I returned, Mom sent back a giant batch of lilies freshly dug from her garden. As you can see, I divided that clump and planted them along the edge of the porch. Given the fact that we've had as much a 8′ of snow build up along the edge of the porch during the winter, I needed some type of plant that would die off in the winter. Lilies, I think, will do the trick.
Paul dug the trench for me yesterday, but before he could haul the loam over with the tractor (it would have taken three trips) Paul deemed the tractor unsafe to ride with its frozen clutch. I managed two trips with the wheel barrow before one of the wheel barrow arms emitted an ominous crack. I called it a day at that point.
This morning I woke up to the sound of the John Deere garden tractor (mowing deck removed) running circles around the house. I got up, grabbed a cup of coffee, and watched as Hannah shoveled loam into a bucket, hauled the bucket on to the tractor and ran a lap around the house, and deposited the bucket of loam into the trench. She did this for at least three hours, if not more. I can't even begin to imagine how many trips she made. The trench is 26′ long and about 10″ deep.
Paul and I both agree that we have never seen her work so hard in all of her 10 years. Doing this kindness for mom gave her a great excuse to ride the tractor!